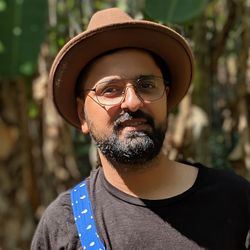 Saurabh Narang
I'm an ex-banker turned photographer and creative consultant, who lives in Bergneustadt, Germany. In less than 2 years of quitting my corporate job, I've helped hundreds of clients including Fortune 5... Show more
Biography
I'm an ex-banker turned photographer and creative consultant, who lives in Bergneustadt, Germany. In less than 2 years of quitting my corporate job, I've helped hundreds of clients including Fortune 500 cos, renowned NGOs and filmmakers with visual storytelling in different parts of the world.
#PortraitProjectChehre is my personal project of street portraits and interviews collected while travelling around the world. Inspired by Simon Sinek's famous Ted Talk 'Start with Why', I asked one same question to hundreds of people 'why you do what you do' before making their portrait.
I also founded Create4Cause in 2017 during a year-long sabbatical break from my banking career at Barclays. The project aims to do match fundraisers to support unnoticed social causes and has raised 9,000+ EUR so far. Find More - https://www.saurabhnarang.com/create4cause
In 2019, UNESCO/ICTP invited me to Italy for their flagship global event - International Day of Light to share my life story. They have nominated me as their Global Speaker for 2019 and 2020. In addition, I have delivered 50+ photography events (tours/workshops/talks) in India and Europe. Find More - https://www.saurabhnarang.com/workshops1
The Guardian, NatGeo YourShot, DW, YourStory, PetaPixel and other reputed international publications have featured my photography and personal story on their digital and print media.
I am a proud recipient of the IPF Portrait Prize 2018, Excellence Prize of the 2019 Asia-Pacific Youth Storytelling Contest, Sony Alpha Stoires Award, and Lonely Planet Unexplored Award. Also, some of my photography work has travelled across the borders to renowned international festivals & exhibitions.
If you are looking someone for better visual storytelling or building a creative strategy, hit me up or just email me at saurabh.narang12@gmail.com
Skills & Endorsements
Achievements